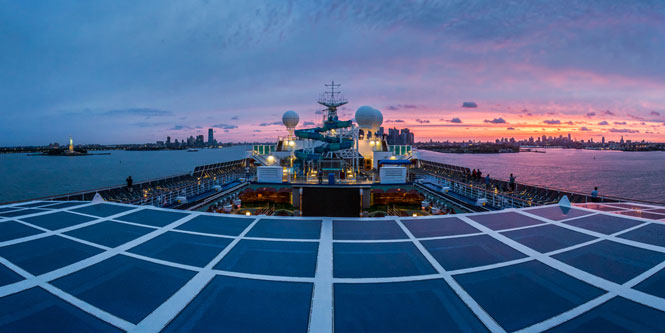 It's a common belief that cruises are the domain of the very old or the very wealthy, but in fact, cruising has long ceased to be an exclusive holiday. Factor in that cruises include accommodation, transfers, meals, and entertainment, and you've little left to budget for!
As with any holiday, the true cost of the cruise depends on the type of vacation you are looking for. Are you a budget-conscious traveler or a luxury seeker? The good news is cruises offer something for everyone; you simply need to know what you want.
Where and when do you want to go?
As with all holiday packages, the school holidays and summer are high season and that usually means higher prices. That said, you will find special offers for various destinations at any time of year.
How long will you be cruising?
You don't need to be a genius to work out that the longer the cruise, the higher the price. But just because you're spending double the time at sea, doesn't mean you pay double the dollars. Sometimes it might be a better value to go for a longer cruise, rather than take a couple of shorter trips as you won't be paying for extra flights and transfers.
What style of cruise?
The cruise line and ship you choose is part of the whole experience. Are you going for luxury all the way, budget-conscious with the odd splurge, or family friendly?
What type of accommodation?
Those fares you see advertised are typically based on double occupancy, per person. In other words, for two people sharing one stateroom. If you plan on sharing with a third or even fourth person (kids, friends, etc), you add a little more to the price. If you're a budget-minded cruiser planning to spend your time utilising the ship's public spaces, a regular stateroom is ideal. If you want to splash out, a balcony stateroom offers a private haven to truly relax and get away from the crowds.
Once you've narrowed down your options, the next step is to understand what is and is not included in the cruise price. This will help you with budgeting, and make sure your vacation is worry-free.
Cruise price inclusions will vary from one line and cruise to another, but the following is included on most ships:
Accommodation:
Just like any hotel room, cabins have televisions, bathroom facilities, a lounge-style area and housekeeping. More expensive staterooms include ocean views, private balconies and even concierge service. Transfers: Most include transport to and from the ship, so long as your air ticket was purchased through the cruise line. Meals: Your cruise cost will include all meals in the main dining rooms, and usually unlimited water and juice. You won't go hungry! Entertainment: With all the day or night entertainment, you'll never be bored. Work out, chill out, try a new hobby – the choice is yours.
What's not included?
As with any holiday, you need to allow for spending money in your budget for those activities and extras not included in the cruise price. To help, here's a list of some items that may not be included:
Specialty dining:
Many ships offer alternative dining for additional charge. So if you're looking to celebrate a special occasion, you can book a table in a more intimate restaurant. Bar drinks: Get all the juice and water you want for free, but you will need to pay extra for alcoholic and carbonated drinks. Service gratuities: As with any service industry provider, tips are earned and appreciated. How much you leave is up to you, but allow around $10 per day for tipping.
Excursions:
While it's completely free to explore on your own, it's worth taking advantage of the great deals on shore excursions, which will include transportation to and from the ship, guides, etc. Spa treatments and fitness classes: If a little pampering is required, you can enjoy manicures, facials, massages and more in every onboard spa. As with any spa, fees depend on treatment's length and you can enjoy daily specials. At the end of the day, how much a cruise costs depends on you. After all, it's your vacation!